Event styling and floral design Rainy Sunday
Location La Porte Space
Photographer Anna Kucera
Client Australian Organic
Product event styling at La Porte Space is always such a pleasure. Their airy outdoor courtyard is the perfect place to showcase products to media and influencers with its photogenic backdrop. In early September, Rainy Sunday styled a spring inspired product event for Australian Organic. The event was hosted to raise awareness of certified organic products for Organic Awareness Month.
The brief was clear. Design and style an outdoor event showcasing the organic products in a beautiful setting and include a seated lunch for 40 guest.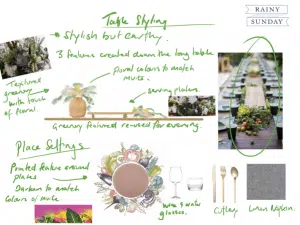 The product event styling for this job needed to look very authentic and natural. We took advantage of the lush potted garden at La Porte Space and designed our product showcase around it. We added more layers of greenery and organic product ingredients to make it impactful and photo worthy for guests.
It was an early spring event and we jumped at the chance to include spring flowers in our floral design with vibrant pops of colour. Our colour palette were inspired by the graphic elements designed for the event. This created a cohesive look from the printed menus, to the linen napkins and colour co-ordinated crockery.
We also made the food service a feature of the event styling, using raised Wooden Platters and surrounding them with rustic flowers and fresh herbs.
The court yard at La Porte Space is over 10m long and we took full advantage of this, seating event guests at one long table for their lunch service. Having a long table is a great way to create a real wow factor for guests on arrival. It also creates a more intimate, engaged and less formal experience for your guests.
Want to talk about product event styling for an upcoming project? Click here to get in touch.