Event design and styling Rainy Sunday
Client Aveda Australia
Photographer Lucy Alcorn
Location Camperdown Commons
Food Acre Eatery
As a Sydney event stylist who does a lot of work with skin care and cosmetic brands, we often style media events with what we call 'guest list cross over'. Guests who have been to a number of events in the same category and their expectations are high to see something interesting every time. This keeps us on our toes and ensures our event styling concepts are new and fresh every time.
For this Aveda media event to launch their Invati hair care range at Camperdown Commons, we knew there would be a lot of guest list cross over.
The brief for the event was to focus the styling concept around the organic ingredients of the product and its inspiration from Ayurvedic medicine – the ancient Indian art of healing. Those attending would be listening to guest speakers and then sit down to an outdoor lunch.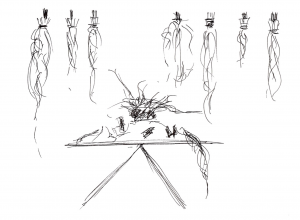 Our inspiration for the event was a luxury Indian bazaar. We styled large product centre pieces under giant hanging layered greenery, that was inspired by Indian pray sticks and drying racks. To draw attention to the organic ingredients of the range we used smashed terracotta pots as displays in mounds of earth. In the pots we had lots of turmeric and ginseng piled high around the products. A clear connection to the products organic ingredients, which we showcased in a unique way. The turmeric was a core product ingredient and helped to add vibrant colour to the displays along side the earthy shades of greenery.
We carried those colours and the luxury bazaar theme into the styling for the seated lunch. Key pieces included coloured glass wear in the brands colours and napkins with a Indian print. To elevate the luxury aspect of the table styling we went for gold cutlery.
Want to talk to a Sydney event stylist about an upcoming project? Click here to get in touch.