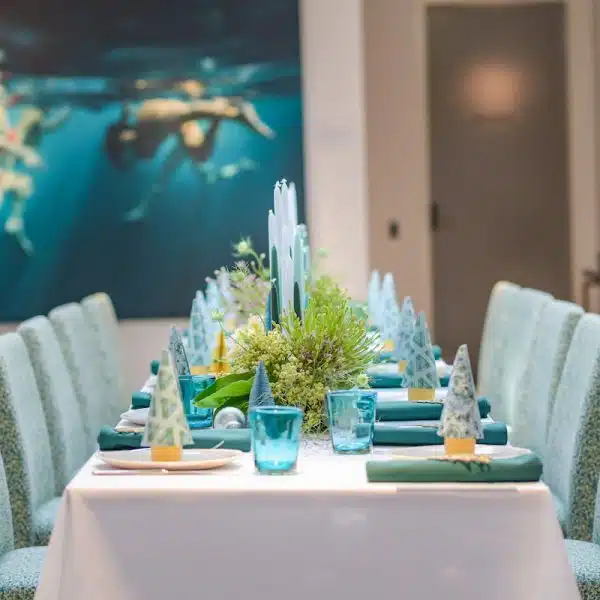 Styling Tip 1.
Using Colour
The easiest way to include colour in your tablescape styling is to draw colours from your surroundings. Here we've used the artwork in the room to add shades of blue and green.
You can add colour in lots of different ways too. Think about coloured glassware or napkins for an instant lift to your table setting. There is also great bold and colourful crockery available these days to help add colour.
To get more depth to your colour, think about using different shades of the same colour and layering them. Start with the darkest shade on the bottom i.e the tablecloth and layer your lighter pieces on top.
Our go-to for coloured glassware is https://www.maisonbalzac.com/ and for fun, colourful crockery we can't go past https://www.intheround.house/
Styling Tip 2.
Layering the Table
If you're planning a tablescape with a real wow factor, think about layering your table.
We start with the tablecloth and build from there. Think about each element of your table and how the pieces can work together.
The table featured here was for a foodie event, so we layered the table to be an immersive 'food' story. The tablecloth was custom printed with words related to eating, like yummy and tasty.
Then layered on top was a 'food' runner, using items taken from the menu that guests would be eating during the evening. This meant all the layers of the table connected back to the foodie theme of the event.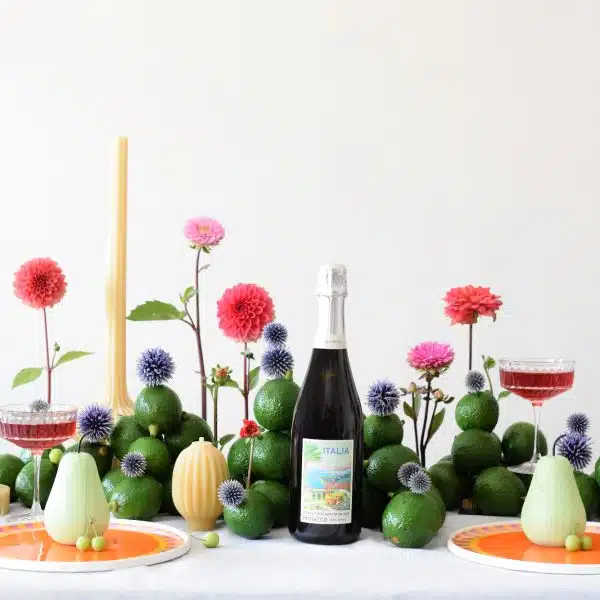 Styling Tip 3.
Get Creative
There are no rules on what you can use to style a tablescape with. One of our best tablescape styling tips is to think outside the box. Forget just adding flowers and use whatever is to hand to get creative.
We've taken avocados here and used them to form a mini garden down the centre of the table. Then we've layered colour pops on top. The end result is fun and colourful, using fallen avos from the garden.
Another easy idea that is sure to impress, it